Fréttir frá Evrópska sundsambandinu - LEN
08.05.2013
PRESIDENTIAL MONTHLY REPORT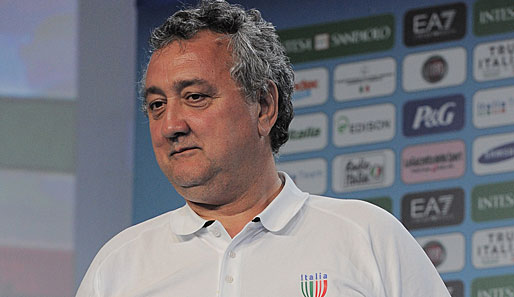 April 2013
Paolo Barelli
President
It's been a very busy April with increasing LEN activity and events, while
preparation continues for so much more that is yet to come.
WATER POLO
• The main Water Polo highlight in April was the Women's Champions Cup Final
Four in Eger (HUN) on April 26th and 27th where the ladies' season of water polo
reached its climax. The four best clubs in Europe had already demonstrated their
power in the Quarter Finals in March, and at the moment of truth in Hungary Kinef
Kirishi (RUS) and CN Sabadell (ESP) dispatched ZF Eger (HUN) and Vouliagmeni (GRE)
respectively. The Final saw the Spanish team take the lead in the first two quarters
with the Russians then striking back in the third, but with not enough strength to
turn it around in the end. The Catalan club's players were then handed the
Champions Cup by LEN President Paolo Barelli, and they have earned the title of
European Club Champion for the second time in three years. Among those in
attendance at this important LEN Event were LEN Treasurer and Hungarian
Swimming Association President Tamas Gyarfas, LEN Bureau Member (and Women's
Water Polo Liaison) as well as Royal Spanish Swimming Federation President
Fernando Carpena, with LEN Water Polo Manager Marco Birri at hand to supervise
that all runs as smoothly as could be.
• The other Women's Water Polo Club competition also concluded in April. The LEN
Trophy Final was played in Russia, with the first game in Moscow where Shturm
2002 Ruza delivered a decisive away win against Izmailovo Moscow. The return
game was under control for the team from Ruza, and Shturm lifted the LEN Trophy
for the second time, as they already won it in 2009.
PRESIDENTIAL MONTHLY REPORT
April 2013
2
The LEN President and Club Natacio Sabadell, the Women's European Club Champion 2012‐2013
• Men's Water Polo also had an intense month of activity starting with second‐tier
national teams in two groups of Round 1 of the Qualification Tournament for the
2014 European Water Polo Championship in Budapest (HUN). Eleven teams played
in Tbilisi (GEO) and in Odense (DEN) from April 4th to 7th and further rounds are to
take place in July and November.
• On April 6th, the Euro Cup Final's return game was played in Kragujevac (SRB) and
Radnicki Kragujevac confirmed their dominion of the competition by again defeating
RN Florentia, with the Serbian team thus achieving its first European title as Euro
Cup Champion. LEN Bureau Member (and Men's Water Polo Liaison) Aleksandar
Sostar, as well as the LEN Water Polo Manager were both present for the occasion.
• The European Water Polo Champions League Quarter Finals' first legs were played
on April 17th and the returns on April 30th and May 1st. The 'Final Four' qualifiers
have won their place at the great European Water Polo Club celebration that is the
Champions League Final Four and that this year will take us to Belgrade to see two
local teams, Crvena Zvezda Belgrade (SRB) and Partizan Belgrade (SRB) facing the
PRESIDENTIAL MONTHLY REPORT
April 2013
3
ever‐constant Croatian Champion Jug Dubrovnik and the newcomer at this stage of
the competition CN Atletic Barceloneta (ESP). We look forward to seeing them give
it all in the Serbian capital on May 31st and June 1st to become the new European
Club Champion.
• And precisely in order to prepare for this great highlight of the season, the LEN
Water Polo Manager was in Belgrade from April 7th to 9th for a site visit to
coordinate and help the organizing committee set everything in place. Marco Birri
was also in Budapest and Eger from April 10th to 12th for site visits for the upcoming
European Masters Water Polo Championships, for next year's European Water Polo
Championships, and for the recent Women's Water Polo Champions Cup Final Four.
MEETINGS
• On April 18th, LEN President Paolo Barelli together with LEN General Secretary and
British Swimming CEO David Sparkes, attended a meeting at UK Sport in London
with representatives of the institutions that have come together to present an
impressive bid to host a combined 2016 European Swimming Championships and
European Masters Championships. These institutions are UK Sport, the Greater
London Authority, the Olympic Park Legacy Corporation, London & Partners, and of
course, British Swimming.
MISCELLANEOUS
• Arena and LEN have sealed their new agreement that extends their long‐time
partnership through the current Olympic cycle. The mutual collaboration and benefit
of the many years of working together have made continuing forward side by side a
natural step in both organizations path ahead. The agreement includes title
sponsorships for LEN's official partner at the upcoming Arena European Diving
Championships in Rostock (GER) in June, at the Arena European Junior Swimming
Championships in Poznan (POL) in July, and at the Arena European Masters
Championships in Swimming, Diving, Synchro, and Open Water Swimming, in
Eindhoven (NED) from August 31st to September 1st.
PRESIDENTIAL MONTHLY REPORT
April 2013
4
Attendees to 'Healthy Ageing and Masters Swimming' Project Meeting at LEN Office (April 11‐12)
• On April 11th and 12th, the group that is guiding the 'Healthy Ageing and Masters
Swimming' project within the framework of the Grundtvig Learning Partnership
Programme of the European Commission met at LEN Office in Luxembourg to plan
the next steps in this stimulating initiative that will, among other things, offer an
informative seminar at the Arena European Masters Championships this summer in
Eindhoven. The project coordinator is Ariella Cuk of Leader Comunicare Interculture,
and project partners include British Swimming, the Royal Dutch Swimming
Federation, and LEN.
• May will be a month of great events with four groups of the Qualification
Tournament for the Men's European Junior Water Polo Championship in four
different venues, the European Junior Synchronised Swimming Championships in
Poznan (POL), the European Synchronised Swimming Champions Cup in Savona
(ITA), Leg 1 of the 2013 European Open Water Swimming Cup in Bat Yam (ISR), and
last but not least, the European Water Polo Champions League Final Four in
Belgrade (SRB).
PRESIDENTIAL MONTHLY REPORT
April 2013
5
We continue to work for LEN's bright future and we thank you all for all you do to
support and help European Aquatics achieve its deserved success. We are very
fortunate to have you on board and we look forward to seeing you at the upcoming
LEN Events of 2013.
Paolo Barelli
President
Til baka